Private Winter Sleigh Ride + Campfire
Start your family's adventure with a visit around our horse farm, meet the 13 resident horses and ponies and learn their stories. Then pile under blankets aboard one of the classy red sleighs and take off into a magical winter wonderland along our private woodland trails. End your sleigh ride at a crackling private campfire where you can warm your toes while sipping hot chocolate and roasting marshmallows.
The sleigh ride itself takes about 40 minutes. The complete experience is one hour in total and is entirely outdoors.

Learn More
Private Romantic Evening Sleigh Ride + Campfire
Picture yourself and someone special tucked into a cozy red Dr. Zhivago sleigh, piled high with blankets behind a big black Percheron or a cute cuddly Fjord. Glide through the woods on snow-covered trails lit with glowing lights and lanterns and sense how the forest has a special feeling at night; peaceful, mysterious and tranquil. End up at a crackling private campfire where a warm beverage awaits. Roast some marshmallows and warm your toes.
Your ride is especially romantic and personal, just for the two of you. A perfect date or a very special setting for a proposal.
The sleigh ride itself takes about 40 minutes and is entirely outdoors.
Learn More
Meet and Brush your Favourite Horse For Families

You'll start with a tour of the farm to meet our 15 resident horses and ponies, most of them rescued or retired. Every horse, from cute little Muffin to massive Big Eddie to Maizy the Mule, has a special story to share and looks forward to interacting with people.
Since all the horses need regular grooming, hoof care and feeding; you can choose one that catches your eye, bring it into the barn and be part of their care team for that day. We will show you how to brush and care for your chosen horse … a real hands-on experience! Don't be surprised if you develop a special connection with your new friend.
A great rainy day activity!
Learn More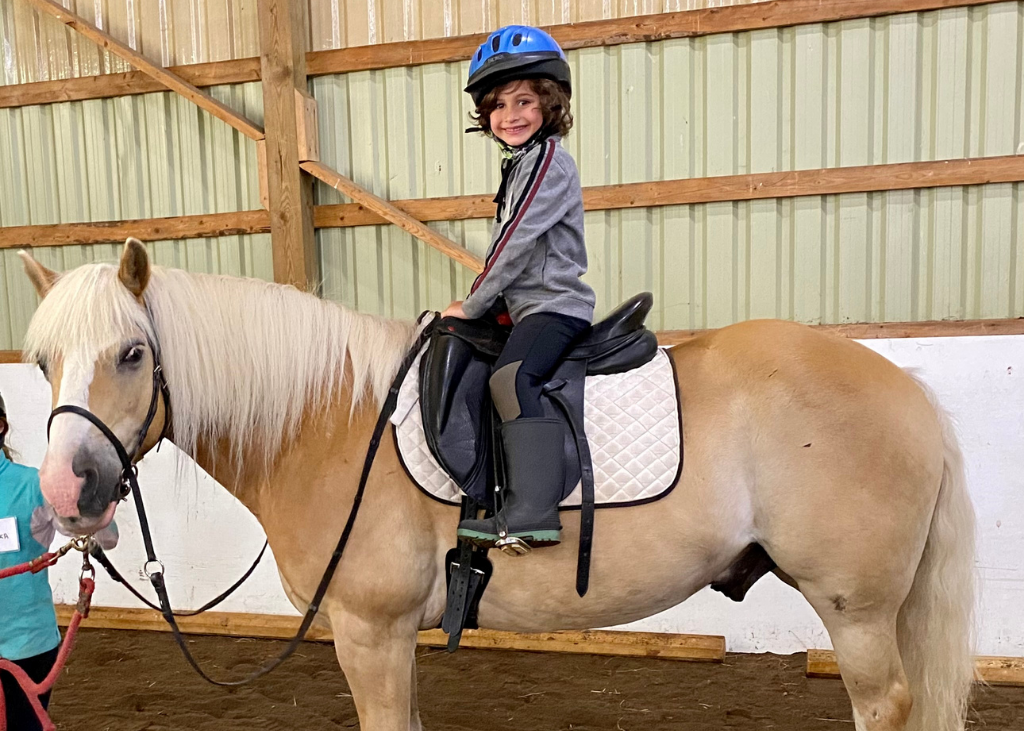 Pony Pals Pony Ride

Pony Pals combines our 45-minute Meet and Brush Horse activity with one 15-minute led Pony Ride. This hour-long experience is fun for the whole family however, the pony ride is only open to children 4 to 10 years old.
A great rainy day activity!
Learn More
Fall Wagon Ride
Horse drawn wagon rides are a fabulous opportunity to take in the vividly coloured autumn leaves of the Muskoka maple forest. Begin your adventure by meeting the big draft horses that pull the wagon and giving them a pat. After your ride leaves the farm buildings behind, you will wind your way through scenic trails where the brilliantly coloured leaves and picturesque autumn views are truly spectacular. Be sure to keep your camera ready to capture this dazzling display of nature! This experience is completely outdoors.

Learn More